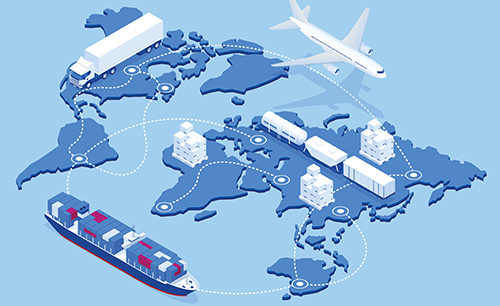 More Transparency in Supply Chains: A look at the opportunities and risks
Why it is important to create more transparency in supply chains, but a differentiated approach should be taken when sanctioning companies.
As specialists in market analysis, it is often part of our job at DTO to uncover supply chains and evaluate them. Therefore, in our day-to-day projects, we are constantly dealing with the opportunities and risks associated with creating more transparency in this area. Now, new challenges have arisen due to the Supply Chain Act. The new Supply Chain Act was passed this year. What are the main elements?
"The 'Corporate Due Diligence in Supply Chains Act' aims to create more fairness and protection of human rights in global supply chains. The exploitation of people and nature as well as child labor must not become the basis of a global economy and our prosperity." (German Development Minister Dr. Gerd Müller)
The main component of the new supply chain law should therefore be the definition of human rights due diligence obligations for companies. German law previously only required companies to report on human rights compliance measures within the supply chain. Now, for the first time, it is legally binding.
The Supply Chain Act: Opportunities and Challenges
First off, it is generally a good thing that companies are not absolved of responsibility when it comes to the social and ecological standards of their suppliers. A more detailed approach in these areas can also create great opportunities for companies. However, in a globalized world, it is often not easy to trace the path from raw materials to semi-finished products or components to the finished product without any gaps. The question is whether companies, based on their capacities and existing know-how, are able to uncover supply chains across the board and subject them to a conclusive evaluation. There are also suppliers who are unwilling to disclose certain information about their products. This can also be due to competition-related reasons, for example. A further point is, market analyses are often used on the sales side to make a decision, while on the procurement side invitations to tender and rather partial requests for quotation make up the basis of procurement decisions.
Nevertheless, it is important that corporate decision-makers become aware that the Supply Chain Act creates a new reality in which ignorance is no excuse. Therefore, it is important for companies that operate globally to inform themselves in good time so that they do not make existential mistakes simply because the challenges do not seem to be manageable.
Data Management as an Opportunity
One solution may be to have the company's previous approach to environmental and social standards analyzed using data management systems. So-called EDI and MDM systems support companies in carrying out compliance checks and audits of thousands of suppliers within a very short period of time. By bundling information, it is possible for companies to be alerted of target breach points. Depending on the company's previous approach, legal advice is an advisable tool. Because it is also clear: due to the progress of digitization processes and greater transparency with regard to information procurement, companies that do not adhere to standards are increasingly under an obligation to act transparently.
Driving Forces from the Textile Industry
Particularly in the case of B2C products, awareness is also increasing from the target group. Textile companies, for example, are increasingly obliged to disclose supply chains, as customers are increasingly opting for fair trade fashion. Companies like H&M are increasingly caught in the downward spiral because they can hardly credibly prove that they produce sustainably and thus fairly. At the same time, there are more and more companies that rely on local supply chains or at least have production in Europe. This reveals a central problem: once the baby has fallen into the well, it is incredibly difficult to reverse the processes again (see H&M). In the textile industry, driving forces have been seen in recent years with regard to ecological aspects. Sustainability is defined here primarily by three central aspects: credibility, environmental compatibility and social compatibility. An overview of seals - such as OekoTex - can be found on the Siegelklarheit.de website. However, a certain skepticism is appropriate here as well. The so-called "End of Line" aspect is not currently covered by any seal, but at least there is a start. Industrial companies from other sectors should be alert here. In addition to data management systems, it is also advisable to involve so-called "green officers". The following questions are important for the analysis (an extract):
What substances do we use in production? (Are there alternatives?)
What social and ecological standards do we follow?
What does our target group demand?
What about compliance with norms and legal standards?
A start in terms of sustainability is made when small-scale process analyses are carried out. Driven by the questions: Where can I become (even) more sustainable and which contracts ensure social compatibility?
Successes through Detailed Analyses
There are always examples where companies can achieve great things through small changes. Laboratory manufacturer Starlab, for example, has succeeded in using less polypropylene (thermoplastic) in its injection molding manufacturing process by making the pipette tip thinner-walled. This has significantly reduced the company's environmental footprint. In the end, it is probably a mixture of attitude, pragmatism and working with the right people and entities that contributes to long-term compliance with common laws such as the Supply Chain Act.
Further Information
Are you an industrial company and want to position yourself more sustainably? Are you looking for a strong partner at your side who advises you in times of crisis and optimally aligns you for the future? DTO can support you in developing a sustainability concept, finding your industry of the future and revising your corporate structures. We can also conduct surveys of your customer groups to bundle expectations (social, environmental or product-specific). Through our resilient network of technology scouts, consisting of industry experts, we bring you together with start-ups and idea providers. Based on market and competition analyses, you can see which markets are stable, which markets will become important for you in the future and which innovative companies already exist on the market. Let's go on this journey to sustainability together.
Text written by
Michael Di Figlia and Kai Wichelmann