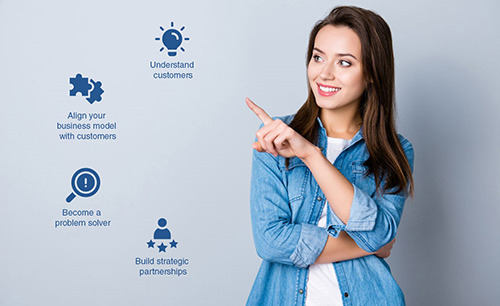 "Customer Centricity" as part of modern business organization
Why it is important to understand your customers and their business model in detail
For some, customer centricity is just another buzz word on the market, while for other companies and organizations it provides an opportunity to transform themselves more and more into problem understanders and problem solvers for customers. No matter what one thinks about this topic, from this discussion one can learn the impact a stronger focus of processes and business models on customer needs can have. In this article, we would like to discuss why customer centricity can help to actively stand out from the competition and sustainably increase customer loyalty.
In the past, many companies have tried to standardize sales processes for reasons such as to achieve rationalization effects. This has often led to processes becoming better or more effective, but customer needs have fallen by the wayside. Each of us has certainly had the experience that a salesperson immediately started with the sales pitch without first conducting a basic needs analysis. As a customer, you often don't feel that you have been properly listened to or understood, which can lead to a rejection reaction, even if the products or services could be quite interesting. As a customer, you want to have the feeling that a supplier can empathize with your needs or problems and offer a solution that fits perfectly.
From a supplier's point of view, this brings with it a number of challenges, especially in the B2B sector. On one hand, you have to understand the customer's business model and problems, and on the other hand, you have to come up with appropriate solutions. Particularly in larger organizations, this places new demands on knowledge and process management. Sales employees should therefore have problem-solving skills in addition to pure sales skills. But the latter also applies to other employees of a company that focus on customers and their challenges. In principle, customers do not care how a supplier is organized, as long as the customers' problems are solved or the supplier even improves their future strategic situation after the fact.
From the customer's perspective, it was often difficult in the past to compare suppliers and obtain the right information to optimize the supplier portfolio. Globalization and digitization have fundamentally changed this. It is now possible to request and compare products and services worldwide. This has led to a strong optimization and rationalization in the supply chains. This optimization is now almost exhausted in many areas. Therefore, we are currently facing a further development step. The so-called strategic partnerships.
The Corona pandemic has shown how vulnerable supply chains are in a globalized world. While some products became scarce, sales for others completely collapsed. Companies that maintain close ties with their customers and suppliers have, and often have had, strategically better options than others. Taking greater account of the concerns of customers, but also suppliers, can thus also lead to greater crisis resistance on the part of companies.
Nonetheless, establishing a stronger customer centricity in one's own organization often requires a cultural change. In addition to the alignment of processes, the relevant employees must be sensitized to the topic. The transformation to a learning organization is essential here. Customer-specific knowledge must be systematically increased and optimally used in strategic and operational decisions. This organizational change can lead to a decisive competitive advantage in the medium to long term.
Further Information
If you would like to know how you can profit from customer centricity, need support in analyzing global markets, or are planning a market entry or market development strategy, please feel free to get in touch with us. We would be happy to discuss opportunities and research designs with you so that you can optimally align yourself with the future markets of this world.
Text written by
Michael Di Figlia