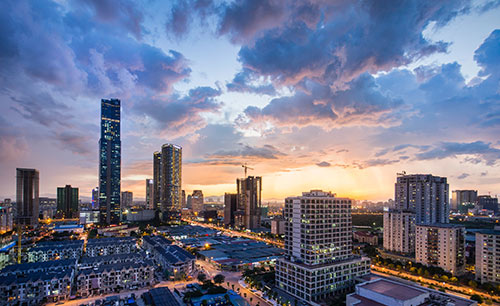 7 Reasons Why Your Company Should Look at Doing Business in Vietnam
As we've discussed before, Asia is well worth your attention, even during historically uncertain times like these. And while the rest of the world grapples with COVID-19, many markets within Asia remain uniquely well positioned to thrive, even during a second wave, and especially once the coronavirus menace recedes.
If you, as a German or Europe-based company are interested in making Asia and Southeast Asia part of your plans, but are not sure where to look, we can help. Singapore is a great place to start. You should also look pay close attention to Vietnam, which is the EU's second largest ASEAN trading partner (after Singapore), and which offers numerous benefits for companies who are interested in expanding their presence in strong and growing markets.
Here are seven reasons why you should take a close look at Vietnam.
1. Timing is perfect for EU companies - the EU-Vietnam Trade Agreement just entered into force.
Doing business in Vietnam just became much easier for companies based in the EU. The EU-Vietnam bilateral trade agreement, which came into force August 1, 2020, reduces barriers to entry, removes duties (ultimately 99% of them), and provides a critical window - starting right now - for companies wanting to enter into Asian markets. Industries such as pharmaceuticals, chemicals, and machinery will have duties removed immediately; others will be phased out during a 3-5 year period. Either way, now is exactly the right time to consider doing business in Vietnam.
2. Strong connection to other locations in Asia and beyond.
The new EU-Vietnam trade agreement offers a strong incentive for companies who are not yet doing business in Vietnam to do so. The fact that Vietnam is so well connected to the rest of Asia is an even stronger benefit. Vietnam is part of ASEAN, party to The Comprehensive and Progressive Agreement for Trans-Pacific Partnership (CPTPP), and party to the Regional Comprehensive Economic Partnership (RCEP). Bottom line: once you're doing business in Vietnam, and especially if you own a business there, a whole world of access and new opportunities opens to you in the rest of Asia - and beyond. As part of the CPTPP, for example, Vietnam also has trade agreements with Australia, New Zealand, Canada, Mexico and others.
3. Strong growth, even during the COVID era.
During the COVID era, "growth" has become a relative term. In a year when many countries are sliding into recession, Vietnam is still managing to achieve positive - albeit lower - macroeconomic growth. However, prior to this strange year, Vietnam's GDP growth was clipping along at a sizzling 7%, on average. And while a second wave may put a slight damper on Vietnam's economy, the country is positioned to weather it well. When the first wave hit, the central government cut rates and pumped more than 1 billion USD into the economy, which bounced back quickly.
4. Large labor pool and low labor costs.
Vietnam may look small on maps, but it is a big country. With a population of nearly 100 million people, Vietnam offers a large labor pool and low labor costs. The skilled labor pool has even continued to increase, thanks to a sustained influx of foreign direct investment during the past decade.
5. Expect political stability, even during tough times.
The country is politically stable and is expected to remain so. Vietnam is managed under a single-party system, the Communist Party of Vietnam. Like China, the government retains full control over the state and has proven keen to enact economic reform policies and provide the stability necessary to attract sustained investment. Unlike China, however, Vietnam is removed from the geopolitical risks associated with a U.S. trade war. And, as recent events have shown, the government has also acted swiftly and decisively to limit the spread of COVID, and to limit associated economic damage. For EU companies, this stability allows the opportunity to plan long-term when it comes to doing business in Vietnam. The new agreement with the EU should also continue to encourage Vietnam to enact policy that improves the ease of doing business.
6. Vietnam has investment momentum and continues to attract FDI.
Vietnam has continuously improved as a target for foreign direct investment. In 2018, companies from more than a hundred countries and territories conducted business in Vietnam. Japan, South Korea, Singapore and the U.S. have multi-billion dollar footprints in the country. With FDI of more than €7 billion, EU-based companies also already have a strong presence - which will quickly grow stronger with the new trade agreement. EU companies already have large investments in industrial processing and manufacturing in Vietnam. Vietnam also stands out as a top-tier destination for multinational companies looking to diversify their supply chains, precisely for the reasons we've stated in this article. You should quickly expect investments in a host of other industries, despite the global uncertainty swirling right now.
7. Solid infrastructure that continues to improve.
Though there is still room for progress, Vietnam continues to create a solid physical, digital and labor infrastructure for companies that wish to expand into the country. This process began in earnest with the central government's adoption of Special Economic Zones (SEZs) to attract investment. One of the net effects has been a gradual improvement both in infrastructure possibilities for foreign companies as well as a more skilled labor force. Now is the perfect time for businesses of all sizes to consider profiting from that fact.
What can German and EU companies expect in Vietnam?
Even prior to the EU-Vietnam trade agreement coming into force, Germany and Vietnam already had a strong economic relationship. In 2019, thousands of German companies exported more than €4 billion worth of goods and services to Vietnam, and Vietnam was one of Germany's most important non-EU trading partners. That relationship will only strengthen and deepen as the trade agreement comes into effect.
Foreign companies can use Vietnam in a variety of ways. Up until this point, the country has largely been chosen as manufacturing or distribution hub, especially by EU companies. Vietnam still makes sense for those business areas, but has also become an obvious candidate for supply chain relocation given the current trade tensions between the U.S. and China. As FDI grows among EU companies, expect a boost in highly skilled labor and more companies choosing to base businesses in Vietnam with an eye toward expanding markets in Southeast Asia.
Would you like more information on this topic or are you interested in a market analysis to clarify how you can get started in this region with your product or service? If so, please get in touch with us. Our offices in Germany and Singapore are available for a free and non-binding consultation.