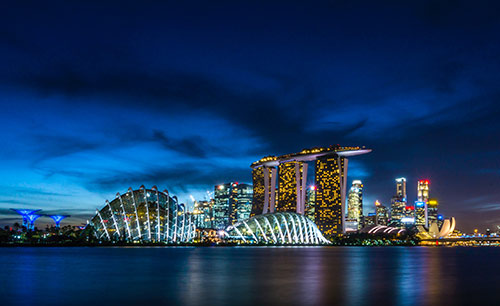 8 Reasons why Singapore should be a part of your company's plan for Asia
In the midst of planning uncertainty and the unforeseeable consequences, it is understandable that companies cut back on their expansion plans or introduce cost savings. In our view, it is a strategic mistake to close our eyes to what is happening in high growth markets such as Asia. We have already shared our view on Asia in an earlier article.
Asia was the first to be hit by the coronavirus, but most of Southeast Asia is now opening up to the world again. If you as a German or European company have Asia and Southeast Asia in mind, but are unsure which markets to explore, Singapore should be your first choice. Here are eight reasons why Singapore remains a top destination for your Asian expansion, be it as a representative office, branch office or regional headquarters.
1. COVID-19 local spread is contained.
The local spread has been contained, and after nearly 2 months of lockdown, called a 'circuit breaker', most of economic activity is now back with implemented safe distancing, contact tracing and digital entry/exit measures in place. The COVID cases for Singapore are high because of the migrant worker camps that were impacted, but authorities have now contained the situation and the local spread among the rest of the 5.7 million inhabitants has slowed to about 10-12 per day. In total, Singapore currently has 27 deaths on record and 5,406 active cases (as of 30.07.2020; 12:00 noon). You can keep up to date on the current situation regarding COVID-19 in Singapore here.
2. Travel is resuming slowly among trade 'bubbles'.
Post COVID travel corridors are slowly opening. As a trade dependent nation, Singapore has been in the forefront of keeping trade channels open and has a number of MoUs with likeminded countries about keeping trade flows open during the lockdowns. Singapore currently has a travel corridor with China and is expected to launch a limited travel corridor with Malaysia starting August 10th. Government authorities have also confirmed efforts to open more travel corridors between Australia and South Korea. These programs will likely be expanded depending on local and country specific COVID conditions.
3. Singapore's growth will remain strong in the short and long term.
Singapore is currently facing a sharp slowdown in macroeconomic growth due to COVID-19. The city-state is investing around 60 billion euros (20% of the country's GDP) to keep the economy running and to ensure that it is ready for action when the economy recovers. Singapore's credit rating remains AAA and large sovereign wealth funds, together with the central bank (Monetary Authority of Singapore), provide a further cushion for the economy.
4. Top Ranked Competitive Economy.
Singapore continues to rank as one of the world's most competitive economies across many indicators. Singapore topped the 2019 World Economic Forum ranking as #1 and ranks #2 in the World Bank's Ease of Doing Business Ranking. These highlight that as a foreign investor and foreign business, you can expect stable rules and policies where your investments are protected. Singapore's government continues to pursue a pro-business policy framework.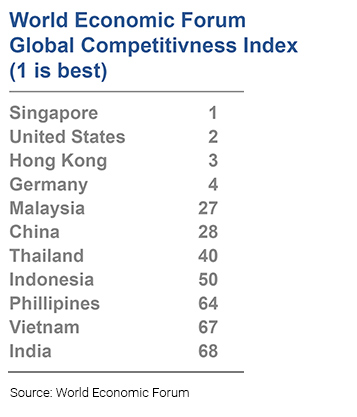 5. Connected across Asia and globally.
Singapore has free trade and investment agreements with all major economies of the world. The much anticipated EU-Singapore Free Trade Agreement (EUSFTA) came into force in November 2019 and should boost EU and German and Singapore cross border collaboration. The EU-Singapore Investment protection agreement is currently under ratification. Not only that, Singapore also has agreements with all of ASEAN, China, Japan, S. Korea, Australia and New Zealand and is one of the founding members of the The Comprehensive and Progressive Agreement for Trans-Pacific Partnership ("CPTPP") between 11 countries. Singapore is also at the forefront of new age digital trade agreements.
6. Skilled domestic and foreign labor force.
Singapore's labor force is skilled. Highly skilled foreign workers and specialized workers continue to seek opportunities in Singapore. Singapore boasts world class universities and a number of foreign universities also base their Asian programs out of Singapore. The local workforce is encouraged to upskill and retrain to meet the demands of the new digital and innovative economy.
7. Focus on digital infrastructure and innovation.
Singapore focuses on digital infrastructure, the digitization of the public sector and the promotion of SMEs. These efforts, which began many years ago, are being intensified during the COVID 19 period. In addition to the digital aspect, Singapore actively encourages technical talent, start-ups, innovators, entrepreneurs and investors in areas such as artificial intelligence, urban agriculture, advanced biotechnology, smart cities and other cutting-edge innovations to settle in Singapore. Since 2014, all areas of services for general interest, infrastructure, and economy have been systematically transformed according to an urban development project. The goal is to become the world's leading "smart nation" by 2030. In the area of mobility, for example, projects planned by Land Transport Authority (LTA) are to be implemented with the help of innovative solutions from Siemens ITS (Intelligent Traffic Systems). The number of startups in Singapore has now exceeded the threshold of about 50,000. About 2,000 of these companies are active in the high-tech sector. Singapore - the Silicon Valley of Southeast Asia?
8. Singapore remains a top investment target.
In the first four months of 2020, amidst the COVID-19 uncertainty, Singapore secured foreign investment commitments of 13 billion US dollars. This is already around 85 percent of the investment commitments of the entire previous year (2019: 15.2 billion US dollars). Despite global uncertainty, foreign investors continue to place their trust in Singapore. Health care, high-tech industries (especially the electronics industry), renewable energies, urban planning and development, logistics and aerospace technology as well as financial services are considered key sectors and are constantly creating new growth impulses in the city-state.
What can German and EU companies expect in Singapore?
Foreign companies use Singapore in a variety of ways, but most often as a springboard for accessing the Southeast Asian market. As a high-income, developed economy, most companies choose to operate a high value-added manufacturing facility in Singapore. Companies tend to concentrate their research and development activities in Singapore or use Singapore as a center for professional services in the region. Singapore is an ideal base from which companies can learn about and expand to other South Asian economies, including India and China as well as Japan and South Korea. For years, Singapore has been at a high level of development and forecasts confirm that this positive trend will continue in the future.
Germany and Singapore have very good bilateral relations and both countries are important economic partners for each other. In 2018, the export sum from Singapore to Germany amounted to approx. 6.6 billion euros, making Germany one of the most important trading partners in Europe. German exports to Singapore amounted to 8.0 billion euros. The number of registered German companies in Singapore (about 1,800) also confirms the intensification of economic relations in recent years. Before the Corona crisis, the numerous business fairs in Singapore also promoted cooperation between multinational companies. Particularly in the field of future technologies, the trade fairs were in great demand and were also strongly represented by German companies.
Would you like more information on this topic or are you interested in a market analysis to clarify how you can get started in this region with your product or service? If so, please get in touch with us. Our offices in Germany and Singapore are available for a free and non-binding consultation.