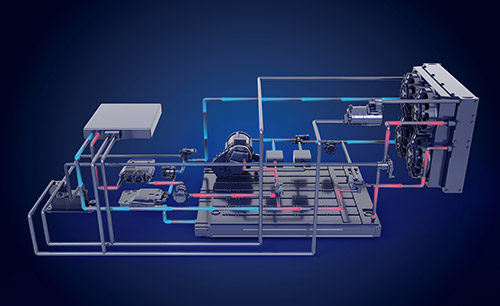 Hydrogen in practice - Development projects in the field of hydrogen are increasing!
The topic of hydrogen is becoming increasingly important. The current governmental incentive measures in connection with the expansion of alternative energies are putting the topic on the corporate agenda of more and more companies. Companies often have questions regarding trends, future concepts or generally about market potential for certain product solutions. However, this being said, companies are often dependent on external support in order to find the answers to such questions.
This has been recognized by the Düsseldorf-based market research and consulting company DTO - B2B Research & Strategies, who has had an increase in interest of companies from the industrial environment dealing with hydrogen. Although companies often have some general information about hydrogen, they often lack a precise concept of how to approach the market and which contacts points are the most promising.
The decisive point with such a project is that for an economic consideration to be possible, the respective technical possibilities and conditions must also always be examined. Only when both economic and technical conditions are realized, can a consulting project in the field of hydrogen surely be a complete success. As a result, DTO - B2B Research & Strategies cooperates with the development service provider, enders GmbH, who has the technical know-how to develop product solutions in a target-oriented way. This article is not only intended to provide practical insight, but also to describe in detail how a technical product can be developed and launched on the basis of current market developments and market research.
Intelligent thermal management systems for commercial vehicles and mobile machinery
Ymer Technology and their development partner, enders GmbH, started the development of an intelligent thermal management system (TMS) for battery-electric and hybrid vehicles. The focus was put on commercial vehicles and mobile machinery.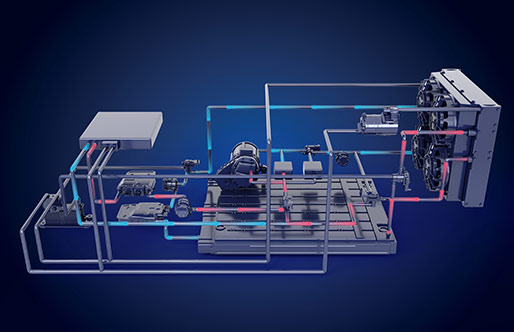 The main objectives of the development were to increase the efficiency of the overall system and to achieve adaptive control. For this purpose, a system standardized on a component basis was developed to reduce customer and vehicle-specific development costs and enable faster assembly.  As a result, an increase in battery service life could also be achieved. Throughout the course of the project, modular, customer-specific prototypes were developed, built, and tested. The first TMS series are, in the meantime, now available at Ymer Technology.
The temperature management system
In the TMS, all heating-cooling circuits of the vehicle are controlled by using, among other things, waste heat from the main and auxiliary units so that the respective components can be kept at their ideal temperature level. Furthermore, the TMS provides the driver's cab with the necessary media (refrigerant and hot water) and controls them. To further increase efficiency, main components of the TMS, such as heater and cooler, are directly coupled to the high-voltage system of the battery to avoid conversion losses.
Further development of a fuel cell vehicle
In Q3 of 2020, Ymer Technology and enders will start further development of the TMS as a variant for fuel cell vehicles. The aim is to test a prototype derivative in a production vehicle in Q2 of 2021 and parameterize the intelligent control system.
Hydrogen is expensive – Efficiency is a key factor
Due to the relatively low efficiency of a fuel cell, a correspondingly higher usable amount of waste heat is released, which can make the use of a TMS even more profitable. An extension of the TMS is also imaginable using, for example, a heat pump. The waste heat can be used not only to maintain temperature levels, but also to raise and lower temperature levels, as for instance in the driver's cab.
Efficiency through intelligence
The core focus of the TMS's continued development will be the extension of the intelligent control and regulation system. A process for the derivation of recurring load cycles is to be developed, which records and evaluates application-specific driving characteristics. The collected data will be used in the intelligent control system of the TMS to control the temperature in the entire vehicle in advance of the load cycle. This data is to be used in the TMS's intelligent open- and closed-loop control system in order to monitor the temperature in the entire vehicle in advance of the load cycle.
About enders
Are you pursuing the goal of successfully positioning yourself long-term in the market with innovative products and technologies? The implementation of your specific requirements requires special support and high-tech know-how! enders is your partner for the secure external implementation of strategic development projects. As a specialist with many years of experience, we support our customers in product and process development, prototype construction, and production-ready products. We have always been driven by the passion to accept challenges and turn ideas into great things with interdisciplinary expertise and creativity.
About Ymer
Ymer Technology is a privately held company led by its founders and an experienced management team. The company is based in Stockholm, Sweden. The company had a turnover of approximately €99 million in 2019 and has been growing steadily since its foundation in 2005. Ymer designs and manufactures cooling systems for wind turbines as well as for construction, agricultural and special purpose machinery. Since the beginning of 2018, Ymer has been intensively engaged in thermal management systems for both battery-electric and hybrid machines. This is yet another example of Ymer's innovative strength and focus on long-term customer relationships and sustainable business decisions. Ymer has a global presence with plants in Ljungby and Valdemarsvik (Sweden), Tianjin (China) and Houston (USA) in addition to development and sales offices in Germany, Sweden, France, USA and China.
About DTO - B2B Research & Strategies
Use targeted B2B market analyses and market research to build the decisive foundation on which your company will stand in the future. Trust one of the leading German institutes for industrial market research. Only those who delve deeply into your industry can provide you with the crucial results with which you can develop a successful and sustainable strategy. DTO - B2B Research & Strategies is more than a pure market research institute: After a successful market analysis, we work with you to develop an optimal market strategy that ensures your agility and helps you to adapt dynamically to sudden changes. DTO operates worldwide and has offices in Düsseldorf and Singapore.
Would you like more information on this topic? If so, please get in touch with us. Our offices in Germany and Singapore are available for a free and non-binding consultation.