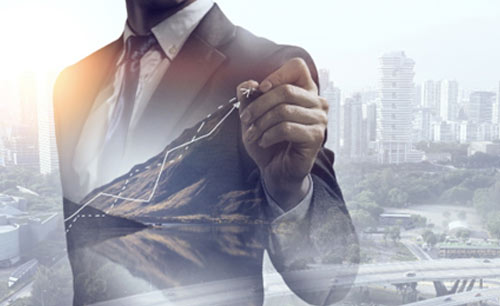 Global Supply Chain Shift: The attractiveness of investment in Southeast Asian countries continues to increase!
In the past years, global supply chains have faced substantial challenges. This is mainly due to a rise in trade protectionism, an increasing change in the global manufacturing landscape, and the effects of the global pandemic. The restructuring of supply chains is already a trend. If the global supply chain is too dependent on just one country, a major disaster or political change in that country can create significant risks for the entire global economy. A shift in the global supply chain can contribute more supplier sources and the availability of more products. Not only will a shift in the supply chain help a business to become more competitive, but also enhance supply chain flexibility, especially in economic crisis situations.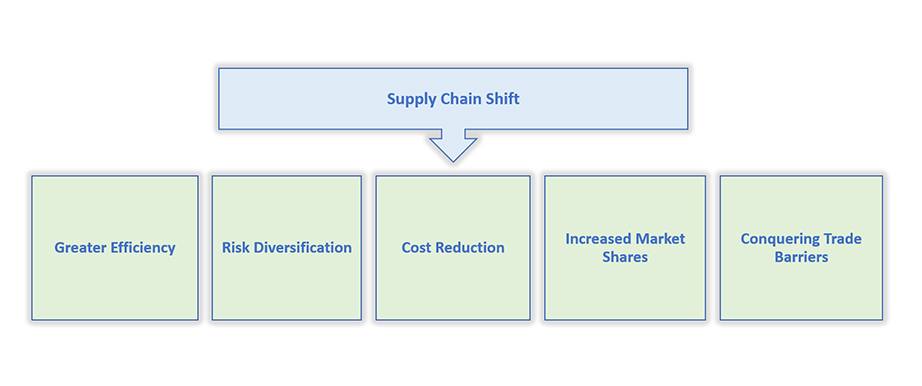 Source: DTO, 2023
More and more businesses are learning that a dependency on one country or region in their supply chain can present risks. Therefore, this has resulted in businesses beginning to consider a diversified chain strategy. At the same time, the USA and China trade war managed to influence businesses to limit their dependency on China as a production location and prioritize finding a production location alternative outside of China. Businesses will continue to seek new opportunities in other Asian regions. ASEAN, a dynamic and competitive Southeast Asian economic region, attracts global companies now more than ever.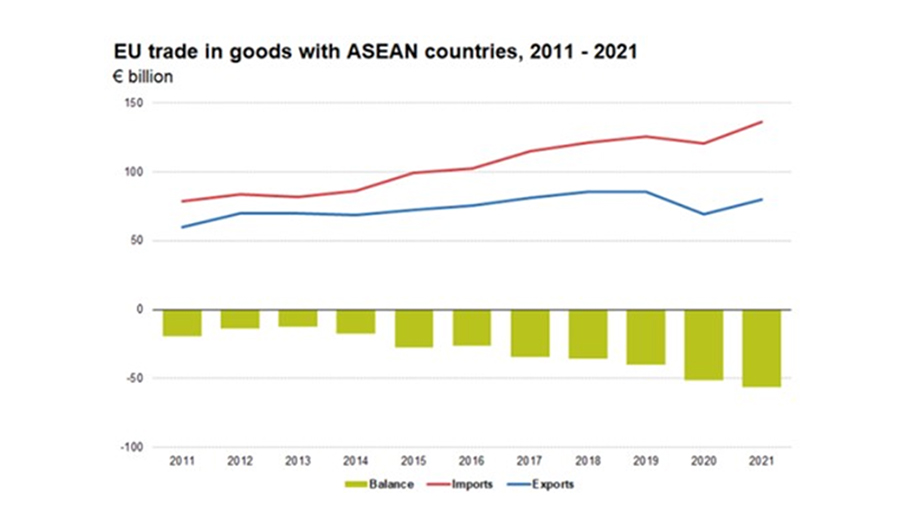 Source: Eurostat
For example, the European Union is an important trader partner for the ASEAN economy, right behind China and the USA. According to data from the European Commission, the total volume of trade in goods between the EU and ASEAN amounted to almost 216 billion euros in 2021.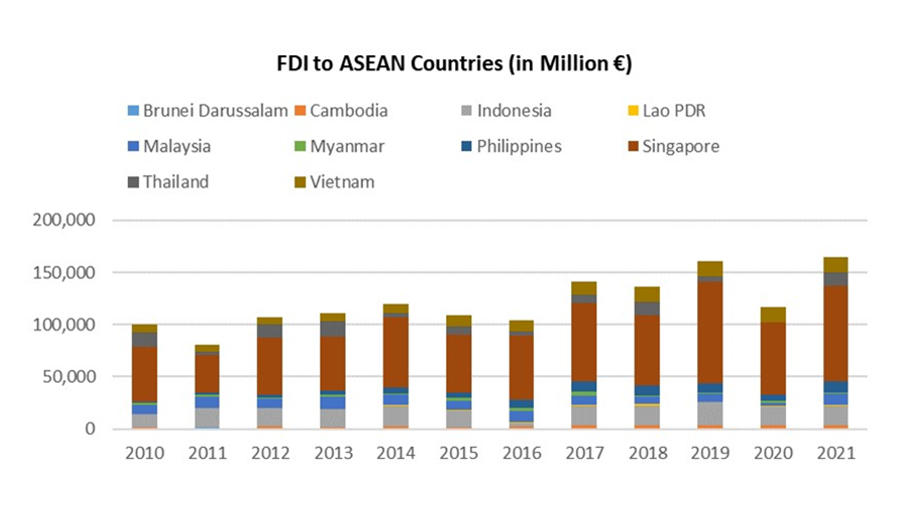 Source: data.aseanstats.org
In recent decades, all countries in the ASEAN region have experienced rapid economic growth and built an export-based, outward-looking economy, which in turn has an important impact on international trade. Geographically, the ASEAN region is located at the crossroads of the world's major shipping lanes and can be directly connected to major global markets. This economic union has a population of over 600 million citizens, thereof many belong to the young age group and emerging middle class. In most of the ASEAN countries, there are low labor costs and a highly educated workforce, making it highly competitive in labor-intensive industries such as manufacturing. In addition, ASEAN countries have substantial amounts of natural resources and raw materials. By shifting production and manufacturing activities in this region, many businesses can be closer to raw material resources resulting in lower logistic cost and risks. The growth rates of ASEAN economies are above the global average, especially in the areas of digital economy, manufacturing, services, and tourism. The trade structure of ASEAN countries is diverse, and free trade agreements with other countries help companies to expand their market presence in this region. Many ASEAN countries have already established mature supply chain networks, providing companies with an efficient supply chain and a good selection of suppliers.
However, when doing business in ASEAN countries, companies should develop a unique market strategy based on each country's cultural, legal, and business customs. For example, in wealthier countries like Singapore and Brunei, the market strategy might be focused on high-end products and services, while in developing countries like Vietnam and Indonesia, the focus might be more on competitive pricing. On the other hand, the political situation of some ASEAN countries is relatively unstable, and the legal environment can be complex, which can pose risks for companies. Therefore, when choosing a new production site, companies should carefully consider various factors, conduct a comprehensive market analysis and evaluation, and develop an appropriate strategy and risk management plan.
If you would like to direct your attention to the southeast Asian region to profit from the local conditions, contact our team at DTO. We are happy to prepare targeted market and potential analyses for your company and develop a suitable market strategy.
Text written by Yan Zhang