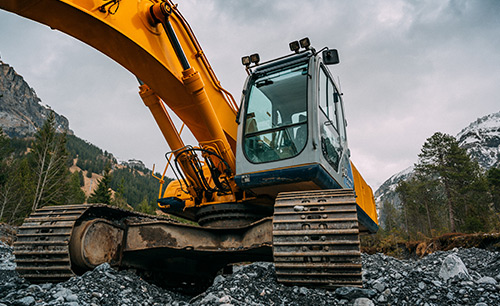 Megatrend or just a marketing trend? - Autonomous operation of construction machinery is taking shape
The functional autonomous operation of construction machinery is one of the central goals of the major construction machinery groups in the coming years. Here, agriculture is playing a pioneering role. In this area, a large number of different autonomous solutions can be found under the term "Smart Farming". In some countries, such as the USA, automated machines are increasingly being used to make the cultivation of large areas more efficient and faster. There are many reasons why autonomous working will prevail here first: large open areas, standardized processes, no heavy traffic, and few to no people in danger zones.
Strong development progress
Significant progress has taken place in the area of passenger cars and commercial road vehicles in throughout the last couple years. Recently, this trend has also become established in the construction machinery sector. As early as 2013, Komatsu introduced its first system for autonomous work in the earthmoving sector. Shortly afterwards, manufacturers such as Caterpillar, Liebherr and Volvo followed suit and presented their own systems on the market.
Although the processes in many areas still cannot be handled entirely without people, this is slowly changing. For example, heavy-duty trucks in the mining sector can make their rounds and transport raw materials without a driver in the cockpit. The use of modern autonomous machines is particularly suitable in open-pit mining with predetermined transport routes.
What is hidden behind the term automation?
A few years ago, it would have been hard to imagine what construction machinery could achieve in combination with sensors, electronics, GPS-based satellite navigation, plug-in technologies, multifunction displays and minicomputers on board.
The first steps were taken with GPS control in the mining sector. Today, these systems are predominantly standard for the new generation of dozers, excavators, single-drum compactors, etc. In principle, the new construction machines are already equipped with integrated high-tech systems in the form of GPS, camera technology, radar and software. For the older equipment and machines, the option of retrofitting is also possible.
What will happen in the future?
There are many influencing variables that have a positive impact on the future development of automation in the construction machinery sector. In addition to economic factors, autonomous work processes are designed to reduce occupational safety issues and help solve the shortage of skilled workers, which are the main problem areas in the industry.
Digitalization is also a very important influencing factor, which has also arrived in the construction machinery world. The most important prerequisite for automation is the acquisition and processing of vast amounts of information. The 5G mobile communications standard will make a very important contribution to success here. Through the fast transmission of large data packets, the machines can communicate with each other and, for example, make mining processes more efficient.
The current problem is, however, that manufacturers rely on internal communication. This means that heterogeneous fleets cannot benefit from the exchange of data between vehicles and machines, as this is not always possible across manufacturers. Experts expect development progress in the next 1 to 2 years and the commitment of the manufacturers, who are already carrying out a high level of research to further optimize their existing automation systems and develop new technologies.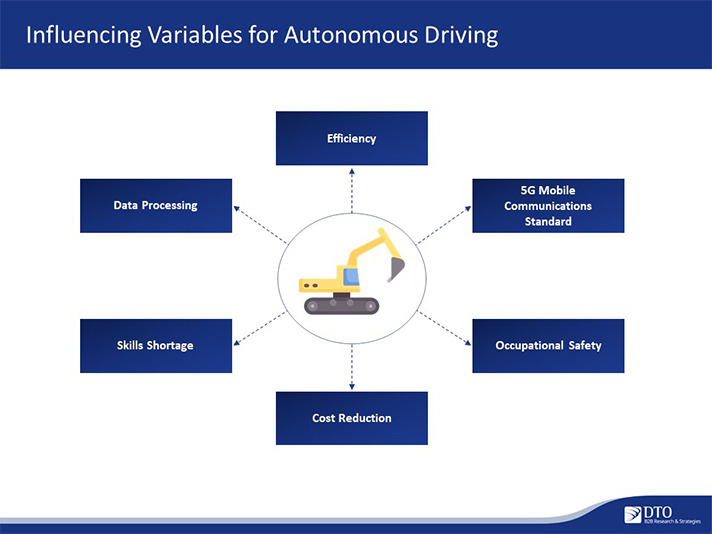 Further Information
If you would like to know how you can profit from autonomous driving, need support in analyzing global markets, or are planning a market entry or market development strategy, please feel free to get in touch with us. We would be happy to discuss opportunities and research designs with you so that you can optimally align yourself with the future markets of this world.
Text written by
Nils Tychewicz