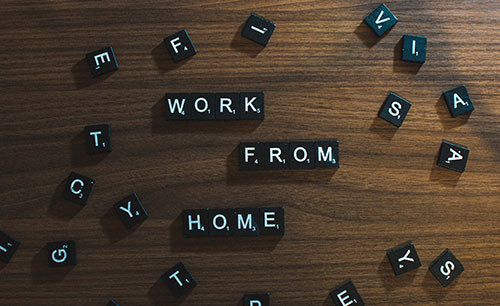 The crisis as accelerator: Home office is no longer a niche trend
The COVID-19 crisis hit companies unexpectedly. After half a year, it is clearer than ever that digital concepts are becoming increasingly important. Digital transformation is now also being driven forward in conservatively oriented companies. In the areas of education and public administration, the first practices have arrived as well. Home offices have finally outgrown their niche trend- an interim assessment.
Just a few years ago, the topic of home office was the sole preserve of hip agencies and IT companies in Silicon Valley. An elitist circle of masterminds who initiated a cultural change, and who were able to afford this change through prospering sales of high-tech products - at least that was the impression. However, over the past few years, the pressure for home office options has increased, especially on the employee side, particularly in industries such as public administration or industries with a high presence in open-plan offices. Rigid presenteeism in the office no longer seems to fit in with the lifestyle of Generation Y and millennials. Flexibility, travelling abroad, worldwide networking - why not the implementation of such in work life as well?
Working from home makes employees happy and productive
The long-standing prejudice that home office is a kind of paradise of unattended idleness, especially from the employer's point of view, is not validated. Especially when distinct rules are followed. The most important thing is to therefore create effective structures. In a two-year study, scientists at Stanford University investigated what results can be achieved while working from a home office. To obtain the necessary data, the scientists worked with a Chinese travel agency. Their CEO was open to the experiment, as the workspace of the 16,000 employees at the company's headquarters was becoming too small.
500 employees participated in the study. Half of the employees worked in the office, the other half from home. The result: While the home office employees worked their full working hours or even more, the office workers tended to be late, left the workplace earlier or were distracted by the atmosphere and colleagues. The test group in the home office, on the other hand, rated positively that they were less distracted, took shorter breaks and called in sick less often. Productivity increased by 13 percent overall, of employees who worked longer hours at home. Overall, home workers showed significantly higher satisfaction and fluctuation rates fell by 50 percent.
The complete study results are summarized in the renowned The Quarterly Journey Of Economics
Home office – the "new normal"
Der Spiegel, a German news publication, takes care of this development by already referring to the concept of home office as the "new normal". Large companies are changing their attitude because experience during the crisis has shown that employees are more productive and more satisfied, especially when stressors caused by daily commuting, which can have a negative effect on the well-being of employees, are eliminated.
On the way to "Work 4.0"
Home office is a part of the "Work 4.0" movement. To drive change forward, it is important to increase the technical competence of employees. The following measures were postulated in the technical book "The digitalization of knowledge work - companies in the balancing act between innovation and control" (Die Digitalisierung der Wissensarbeit – Unternehmen im Spagat zwischen Innovation und Kontrolle, Köffer, Sebastian (et al.)).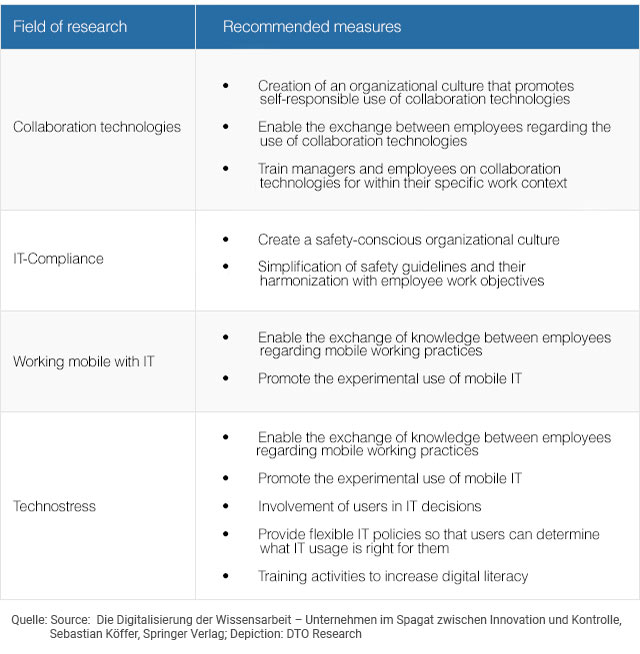 While the above-mentioned measures are rather intended to increase general levels of knowledge, there are a few screws that should be adjusted by companies when dealing with the subject of home office themselves:
Companies should create clarity: When is home office possible? For whom is home office possible?
Communication rules: In which cases should emails be sent, when should a telephone call be made?
Confirmation and perception: Fixed agreements, fixed appointments, group chats, etc.
Despite all the positive factors that home office can make possible, the will of each employee can vary. Constant presence in the office can also lead to a sense of routine that feels positive, especially when work commutes are not too far. It is also important to consider how an employee can set up their home office, e.g. do they have the necessary capacities (space, little distraction etc...) to be able to work productively from home? The bottom line is that working from home is a topic that companies should now always consider, and when it is considered, individual circumstances should be taken into account in the home office conceptual design and implementation.
You want to deepen your knowledge or implement the topic of digital concepts and home office in your company? We would be happy to survey your employees and generate their opinions in order to design the most suitable concept together. We can also support you in finding digital partners and incubators or inform you about current mobility concepts for work. DTO Research – the partner at your side.
Text written by Kai Wichelmann