Bringing the Best of Market Research and Consulting to Bring Into Hidden Potential
Through a targeted combination of market research and consulting methods, we are able to assist our clients in a variety of strategic and operational decisions. In addition to pure data generation, we support our customers eg with:

strategic direction and planning (national / international)
the targeted optimization of marketing and sales
in building up international know-how about markets and industries
the construction of in-house market research departments
the preparation of internationalization strategies and the development of new sales markets
the evaluation of strategic action alternatives
the preparation of M & A projects through tailor-made market and industry analyzes
the implementation of strategies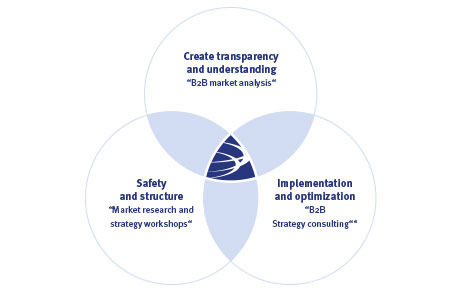 Our industry focus in consulting lies in the fields of Construction & Commercial Vehicles, Mining & Construction, Industrial Applications & Mechanical Engineering, Chemicals, Medical Devices, IT & Telecom, Logistics & Transportation and Energy. For further information, we are always happy to personally available!


Contact:
Mr. Nils Tychewicz (Managing Director) and Mr. Rickmer Görner (Project Manager)
Tel .: +49 211 179 660 - 14
E-Mail: This email address is being protected from spambots. You need JavaScript enabled to view it.