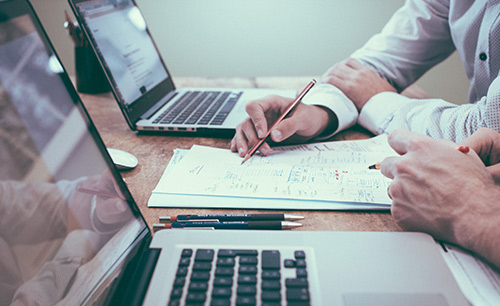 In the Information Jungle - Between Lack and Overload
How strategic knowledge management can become a competitive advantage
We live in a digitized world in which there is virtually unlimited access to knowledge. A large part of this knowledge is even free of charge and can be accessed at any time, i.e. via the Internet. There are now studies (paid or freely accessible), or at least qualified expert opinions, on almost every topic. In addition, every company has internal sources that can be used to gather knowledge. In this jungle of information, a company manager can quickly lose the overview. This makes it all the more important to find the right balance between "lack and overload". However, this is not always easy.
Every company collects information in some way. However, we know from operational practice that this information is not always used and processed optimally, i.e. it is not necessarily available to the people or departments where it can generate added value. In addition, many companies have not yet realized that the right numbers, data and facts can contribute to an enormous competitive advantage. But how should an operational structure be designed to address this issue? Since this topic is very extensive, we will limit ourselves in this article to the topics of market and company analyses.
Involve the entire company in the determination of information requirements
First of all, management should recognize the fundamental need to base operational and strategic corporate planning and controlling more strongly on internal and external information. Then, the need for knowledge should be determined with the relevant people, usually the divisional management level, marketing, sales, product management and, if necessary, the R&D department. In doing so, questions should be asked regardless of actual availability:
For example, what information would be needed for sales optimization, strategic business alignment, new product development, or marketing adaptation to generate real value in operational practice?
It is essential to involve the relevant departments in the project from the outset in order to generate a higher level of commitment within the company and to obtain as comprehensive a picture as possible of the actual information requirements. Depending on the previous knowledge and level of training of the employees, external training that deals with the identification and validation of information can also make sense here. The research and evaluation of external sources in particular is a factor that should not be underestimated.
Promote the use of internal sources for knowledge management
Subsequently, it should be determined which information is already available in the company, e.g. in other departments, or can be covered via internal sources. Often, a great deal of knowledge is already available in companies, but it is not used systematically. Internal sources can be, for example:
Visit protocols or surveys of the sales force
Research reports or surveys of the R&D department and/or product management
Sales figures and historical sales (e.g. broken down by product or product group)
Suppliers and customer databases
Analyses or studies from other departments, etc.
To structure the information, a group drive or an internal knowledge database can be used. Most IT systems also make it relatively easy to assign access or usage rights in order to make information accessible only to those employees who should actually get it. However, most companies have knowledge requirements that cannot usually be fulfilled by only internal sources. It is therefore necessary to use external sources as well.
When generating external information, the methodology and selection of the service provider are important
There are several ways to obtain external information. In principle, knowledge generation by the company's own employees is always welcome. On the one hand, this is more cost-effective for companies than working with external agencies, and on the other, it increases knowledge building and in-house expertise. The only thing is that obtaining information through in-house resources often has limits, which are quickly reached. There are also legal barriers, especially in the case of competitive analyses, and the methodological competence of in-house employees is not always available. Particularly in medium-sized companies, there is often a lack of personnel resources to deal professionally with external sources of information. This makes it inevitable to deal with external agencies. In order to find the most suitable and qualified provider, good preparation is necessary. Basically, it should be roughly clear which information is needed for which purpose.
It also helps enormously to be at least roughly familiar with the advantages and disadvantages of the most common analysis and information-gathering methods. These include secondary analyses, online surveys, expert interviews, POS surveys, web interviews and the associated analysis methods. A good knowledge gathering agency is therefore not just a pure data provider, but should also always see itself as a consultant for the right project structure, the most suitable data collection method and the most effective use of data. Especially the latter is enormously important in order to draw the right conclusions from the information. Depending on the project question, this may concern, for example, the derivation of the new sales strategy, the best possible company orientation, the most effective marketing methods or the selection of new product ideas.
DTO as your partner for knowledge management
Based on the information given above, we would like to give you a little insight into our operational practice, as we are confronted with the very question of how to obtain knowledge as effectively as possible on a daily basis. In many of our project requests regarding market analyses we receive very extensive briefings. We know from everyday practice that in many cases it can make sense to analyze these again in detail together with the customer. An external view can often help to make the project structure and the subsequent use of data much more effective. Often, there are questions and information requests in the briefings, the processing of which is very resource-intensive, but which represent only a small added value for the customer in relation. Conversely, relevant aspects may not have been considered. This can be significantly optimized through good coordination and preparation.
Ultimately, it can be stated that an information advantage can represent a decisive competitive advantage. However, it is not only the availability of the information that is important, but above all its use. In practice, companies handle this in very different ways. However, this is a topic that corporate decision-makers should have dealt with at least once.
Text written by Michael Di Figlia